How John Barsby Secondary School Got its Name
John (Jack) Barsby was a plasterer by trade, and to his credit he led the City of Nanaimo through some of the most difficult years since its incorporation. He was born in Derbyshire, England, in 1883, one in a family of thirteen children. At age twenty-four, he immigrated to Canada and worked for a short time in the coal mines of Nova Scotia, then moved to Fernie, B.C., before finally settling in Nanaimo and establishing a plastering business here. During the early history of the Upper Island Music Festival, Barsby served as president. He sang in its competitions and was often a prizewinner. In later years when the festival hit a low point, Barsby helped revive it. Barsby was an all-around good citizen of Nanaimo. His list of accomplishments is long, especially in relationship to education, serving first as school trustee then at various times as chairman of the board. Each election he was returned to office. His interest in education extended provincially through the B.C. School Trustees Association where he was elected first vice-president in 1941 then president in 1942, eventually being honoured with a life membership in that association when he retired in 1950. John Barsby Junior High School, which opened in 1956, was named in his honour in recognition of his service to education at the local, provincial and national levels. In Barsby's spare time, if he had any, he loved sports, and he won a gold medal for trap shooting and another in football. He enjoyed the outdoors, hunting and fishing, and was an active member of the Nanaimo Fish and Game Club. For all these accomplishments, the City of Nanaimo honoured him as a Freeman of the City.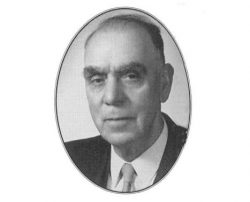 Past Mayors
Curious about our past Mayors? City of Nanaimo posted a document, and you can view them here!